Steven Heighton's most recent works are Selected Poems 1983-2020; an album of original songs, The Devil's Share; and Reaching Mithymna: Among the Volunteers & Refugees On Lesvos, which was a finalist for the Writers' Trust Hilary Weston Prize.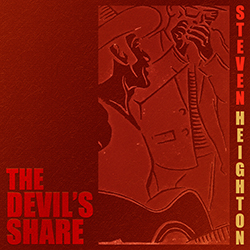 He is also the author of The Waking Comes Late, which received the 2016 Governor General's Award for Poetry, and the novel Afterlands, which appeared in six countries, was a New York Times Book Review Editors' Choice, and was a "best of year" selection in ten publications in Canada, the USA, and the UK. The novel has been optioned for film by Pall Grimsson and is in pre-production. He has also published The Shadow Boxer—a Canadian bestseller and a Publishers' Weekly Book of the Year for 2002—which appeared in five countries. His other fiction books include The Nightingale Won't Let You Sleep and The Dead Are More Visible, while his poetry collections include The Ecstasy of Skeptics and The Address Book.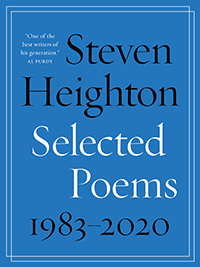 His fiction and poetry have been translated into ten languages, have appeared in Granta, London Review of Books, Zoetrope: All-Story, Tin House, Poetry, Brick, Threepenny Review (forthcoming), The Independent, TLR, London Magazine, New England Review, Malahat Review, Agni, The Walrus, Poetry London and Revue Europe, have been internationally anthologised (Best English Stories, Best of Best English Stories, Best American Poetry, The Minerva Book of Stories, Best American Mystery Stories and others) and have been nominated for the Writers' Trust Hilary Weston Prize, the Governor General's Award, the Trillium Award, a Pushcart Prize, the Moth Prize, and Britain's W.H. Smith Award. Heighton has received the Governor General's Award for poetry, the Gerald Lampert Award, the 2010 K.M. Hunter Award (literature), the 2011 P.K. Page Founders' Award, The Petra Kenney Prize, the Air Canada Award, and four gold National Magazine Awards.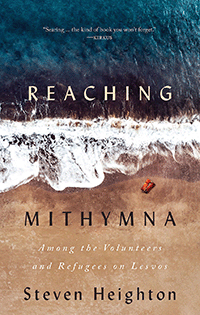 He has been the writer-in-residence at McGill University; Concordia University; Massey College, U of T; Queen's University; the University of Ottawa; UPEI; Athabasca University; and CMR/RMC. He has taught at the Summer Literary Seminars in St. Petersburg, Russia (2007), and in Tbilisi, Rep. of Georgia (2019); at the Sage Hill Writing Experience; and in the writing program at the Banff School of Fine Arts. Heighton has also been a fiction reviewer for the New York Times Book Review.
Please click here to view a complete C.V. in PDF format